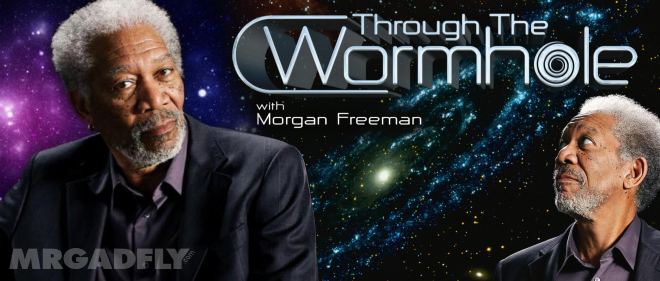 Okay. I have to admit. Ever since Ray Kurzweil introduced the idea of nanobots coursing through our veins constantly rejuvenating cellular structure, I have thought one thing: that would make a great magic trick!
Over the years, I developed a couple of demonstrations (a basic example is at the bottom of this article). However, what stimulates my little brain even more, is the concept of biological and mechanical competition.
Your iPhone is a good friend today, but what if you had to augment your own DNA to compete with a world of artificially intelligent smart phones?
Scientists, with strings of letters before and after their name, refer to the apex moment of biological/technological competition as the "singularity." Many predict singularity will occur in 2025 – around the time software and hardware progress to such a degree, they outpace the human brain.
Large, clunky computers might seem manageable today, but what about in the future when every person owns millions of microscopic computers?
Technology is expanding exponentially. Neural implants, for instance, according to Ray Kurzweil's models, reduce in size at "a rate of 100 [times] per decade, so these technologies will be 100,000 times smaller in 25 years, and 25 years from now they will be the size of a blood cell."
Of course, we are not there yet. Even the most powerful super computers can only process 10 to the power of 12 bits per second. Overkill for surfing Facebook, but the human brain is still millions of times faster. Even quantum computers, which will someday rival the imagination of science fiction writers, have only just broken the 3×5=15 threshold.
Computers don't have to be smart to steal jobs from humans. We compete now as robots build cars, answer phones, and stock shelves. Imagine when competition becomes creative: when the funniest comedian on earth is a computer (you can see MIT's recent research for an example), the best business idea generator is a desktop calculator, and the chef in every restaurant has a model number.
Humans evolve at a much slower rate than technology, so to remain competitive we will have to integrate with machines.
Our core body parts, those required for human life, will be easily replaceable. Power supplies, often the major limiter in the smallest-possible size of a device, will be biological, relying on cell reproduction for endless energy. Medical breakthroughs will occur as a matter of routine function, with computers breeding discoveries from deductive reasoning, and their human masters incorporating the results in a slippery slope of curiosity.
The result: humans will live longer lives.
"Through the Wormhole," staring Morgan Freeman (Science Channel, check local listings for show times), recently discussed the concept of eternal life through inevitable scientific innovation.
"In just the past 200 years, the average lifespan has double from about forty, to almost eighty years," Freeman said. "Breakthroughs in biology and physics could soon bring immortality within our grasp. For better or worse, many of you watching me right now, may live to see the day when aging, and death itself, are relics of the distant past."
If life expectancy continues to double every couple hundred years, we are on our way to living to 400 years by 2411. Do the math – that is 386 years after the singularity – 386 years of aggressive biological/technological competition.
SIDEBAR: The average divorce rate in the U.S. today is over 41%, with the average human living 80 years. Think of the divorce rate when humans live to be 300! Not to mention the candles on their birthday cake!
Jump ahead 10,000 years in the future. Human life will be very much different than it is today. In contrast, imagine the human species 10,000 years ago. We were knee-deep in the Stone Age. 10,000 years from now, our current technology will look as primitive to the humans of the future, as a stone hammer looks to us.
In that futuristic time, the human lifespan, barring any legislative mandate of automatic death by a certain age, is potentially infinite. One need only understand why humans die in the first place, to see longevity is really quite basic.
WHY DO HUMANS DIE?
Technically, we don't just kick the bucket. We decay slowly due to old age and disease or we decay quickly due to trauma.
This decay is entropy; the second law of thermodynamics. Roughly speaking, entropy is "a thermodynamic quantity representing the unavailability of a system's thermal energy for conversion into mechanical work."
Every cell in our body decays at some rate, but Mitochondrial DNA requires special focus. Mitochondrial DNA is found in organelles known as the mitochondria; structures located within eukaryotic cells. These DNA strands convert energy from food into a form of energy the cell uses to function. They are "cellular engines."
"If you can imagine in the cells, you have hundreds of these mitochondria. These little engines," says Valter Longo, a geneticist at the University of Southern California, "and these hundreds of engines provide the energy locally to every single cell in our body."
When these mitochondrial powerhouses wear down, our bodies begin to decay and age.
In a recently conducted experiment with baker's yeast, Valter found a way to reverse the decay, and rejuvenate mitochondria in cells. By simply removing two genes, RAS2 and SCH9, he prolonged the yeast's lifespan from hours to weeks – the equivalent of a human
living 800 years!
The yeast didn't just live longer, it also developed resistance to fatally noxious stimuli. Heat that would usually kill the yeast simply
caused its DNA to regenerate more quickly.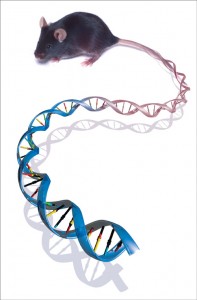 Inspired by his success, Valter started experimenting with mice, already doubling their life expectancy using the same method of gene removal.
We know humans have over sixty genes attributed to age decay, discovered by comparing young and old genomes. Removing all of them may not be feasible, so we must assume that, even if humans live thousands of years, some decay may be necessary for desired features to remain (memory versus wrinkles).
Instead of removing the age-attributed genes, we might constantly restore them to new(er) condition using microscopic clean-up crews. Scientists have genetically spliced photophobic algae and the corrosion-eating bacteria from the human digestive track. These programmable biological robots may someday be rubbed on the skin, and as they eat through the body making their way to the colon, digest cell waste, leaving behind healthy [young] Mitochondrial DNA.
In Freeman's "Through the Wormhole," they prophesize a day when humans are digitally stored on computers, rendering these medical advances unnecessary. The concept might be common practice in the future, but for right now, it is significantly new technology. And thus, still in the realm of magic.
THE MAGIC TRICK: NANOPAPER
"Our skin is not so different form a piece of paper. Skin is about the same thickness as paper, both are made of a collection of cells, and when not connected to our body, flesh tears just as easy."
Tear a small piece of paper into even smaller pieces. Roll the pieces into a ball (Billet Switch) and hand it to the spectator. When the spectator opens the ball, the piece of paper is fully restored.
"Skin heals in much the same way. Given enough time it will grow back together, leaving scars like the paper left wrinkles. They say, someday, we will be able to inject tiny little bugs into our bodies that will rejuvenate our cells."
Pretend to lay the wrinkled piece of paper on your palm-up hand, but secretly switch the worn piece of paper for a pristine, unwrinkled piece of paper of the same size (have it rolled up in a th***ti* for the switch). Shake your hand back and forth – a shiver – fast at first to blur the paper, and then slow it down to reveal the absent wrinkles.
"And just like that, the wrinkles disappear and the paper is young again."
Take Issue: In much the same way mentalists condemn those who claim "special powers," especially when "channeling the dead," I think it is an injustice to claim any magic trick is an actual demonstration of a scientific principle, when in fact, that principle is impossible to demonstrate. Instead, use the opportunity to discuss the new technology and excite the public.
Comments
comments