Barreling down the road on my bicycle one Saturday morning—the temperature at 27 degrees—I am distracted by a Rembrandt painting over four thousand miles away at Kenwood House in Hampstead, London.
Specifically, I am churning about the details of a mystery surrounding the Dutch artist's famous Self-Portrait with Two Circles.
From a distance, Rembrandt Harmenszoon van Rijn's paintings look warm and lifelike. Upon close inspection, his brushstrokes are muddied and cold. His colors collide as if painted with a dirty brush, except for the occasional wisps of white that give his subjects their depth.
His Self-Portrait with Two Circles is a reflection of the artist at a difficult time in his life. Rembrandt's first wife, Saskia van Uylenburgh, and three of their children—a son named Rumbartus and two daughters, both named Cornelia—were dead.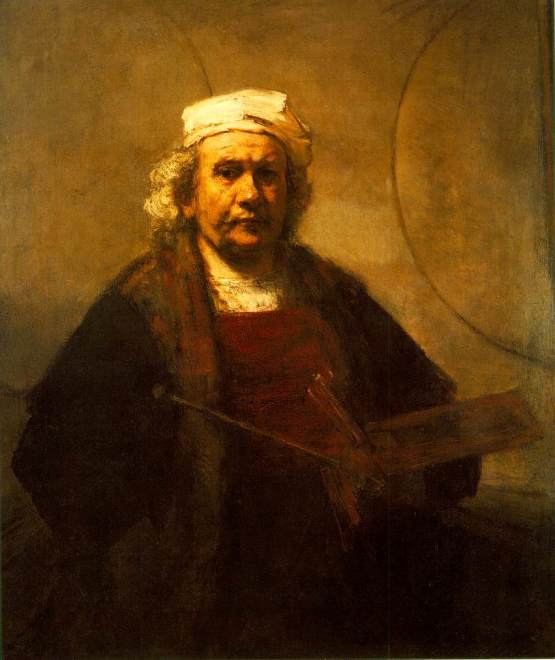 Rembrandt was broke, his fortunes exhausted and his assets liquidated. The gold chain barely visible around his neck, hidden within his blurred technique, somehow eluded sale.
Rembrandt's fourth child was a man named Titus, who along with Rembrandt's mistress, Hendrickje Stoffels, became the artist's employer—necessary to bypass the rules imposed by the Amsterdam Painters' Guild, which restricted trade with the painter.
His son's efforts and a judge's mercy saved Rembrandt from official bankruptcy.
Despite his tribulations, Rembrandt gazes defiant in this portrait, like he rolled out of bed and summoned the strength to do this one thing. His eyes are determined. His body ready to work. I presume every stroke garnered therapeutic reprieve from his plight.
Still, Rembrandt himself is not the element of curiosity within the painting that has stumped art scholars and historians for over three centuries, and the artist was not the puzzle that had captured my attention on this ride, distracting me from the cold, pre-winter wind.
I peddled faster—increased my cadence—to gain some downhill momentum, and on the way up the other side, I peeked over the edge of my machine to spy the wheels—first the front, and then the back. My bicycle tires reminded me of the title circles behind Rembrandt in the painting—two sketched lines that have no obvious purpose.
But these circles are not really circles at all.
Only two arcs are visible.
They might be circles if they were continued. However, the artist reveals in a subtle way the arcs end in life where they end in art—notice the edge of the background visible on the far right of the painting. Many speculate the background is a large canvas, fueling the mystery even more since a painting with these two arcs does not appear in the body of Rembrandt's work.
If the arcs were carried to completion—an experiment I have tested personally in Photoshop—the resulting circles would not be perfectly round. Is their elliptical nature a clue?
Richard Cork, author of The Healing Presence of Art, wrote in a Wall Street Journal article, "Perhaps he intended them to refer to a map of the world. Such images hang in the background of several 17th-century Dutch paintings, like Vermeer's 'The Art of Painting.' Holland was an adventurous nation, in love with the challenge of discovery by sailing across oceans. So Rembrandt, while anchored in his studio, might be indicating his awareness of the world's beckoning and unknowable immensity."
My [futile] wish is that we will one day discover Rembrandt was a visionary like Leonardo da Vinci, and these arcs are a prophetic schematic of an early bicycle design. Rembrandt died in 1669 at the age of 63, over one hundred and thirty years before the invention of the first bicycles, rendering my hypothesis unlikely.
Another clue: Rembrandt's self-portraits—his paintings in general—almost exclusively feature dark backgrounds. It is possible the artist was flirting with a new style, as even the masters do, or maybe his eyesight was weakening with age and dark-on-dark was more difficult for him to see.
It is not without evidence to suppose the artist intended to replace the light background with another image altogether.
"A fascinating X-ray of this self-portrait reveals that Rembrandt began by showing himself in the very act of painting," Cork wrote, "with a brush being applied to the canvas by his raised hand."
Since Rembrandt disguised the original pose, he could cover the background too when he finished with the rest of the painting. Self-portraits were not highly profitable; a work for hire could walk through the door and shelf this labor of love, leaving it unfinished.
Modern observers might conclude the arcs were an abstract design, but Rembrandt was not an abstractionist. Based on the master's lifelong portfolio, these lines ought not be branded pure Euclidean candy without corroboration.
If the canvas truly existed and was not Rembrandt's artistic license, then the most likely explanation is the arcs were eventually abandoned, the canvas repurposed.
And this latter proposition is exciting. As more of the artist's paintings are authenticated and X-rayed, there is hope the circles will present themselves once again. Until then, it is something to ponder on the long rides.
---
This article is part of the Reading & Riding series by Aaron K. Smith.
Comments
comments