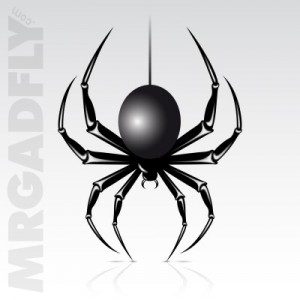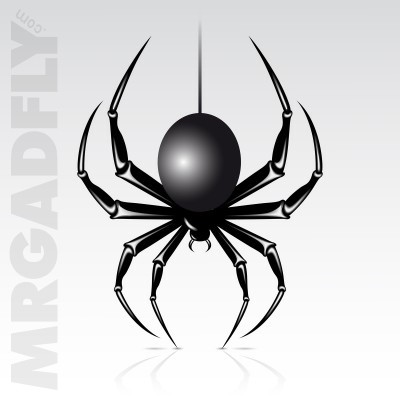 Years ago, I was at an amusement park with my family. At some point, I wondered off by myself to explore – I get distracted easily.
During my adventure, I found a spider menacing around on a wooden bench. He was an interesting looking spider, so I set my hand down in his path and he crawled onto my palm.
After making friends – as best you can with a spider – I set my hand back down for him to scurry away to his bench-front home. Apparently, we were better friends than I thought. Instead of leaving my hand, he ran up my arm.
When he reached my shoulder, I tried fruitlessly to get him back on my hand. In a last-ditch effort to avoid a spider kiss on my cheek (or in my ear), I blew a tiny gust of air in his direction, propelling him off towards the bench.
As spiders do, he dispersed a constant line of silk, starting from my shoulder and spanning all the way down to the bench.
My MRGADFLY sense kicked in and I started thinking – I started wondering:
Is the production of a long strand of silk a predictable response from this organism when dropped?
Could a person take a spider, construct a series of variables enticing the spider to produce a starting point of silk, and then safely fling him in a desired direction to an endpoint, leaving behind a useable length of genuine spider silk?
Since the silk is sticky when first produced, are multiple strands of their web, in an ideal environment, combinable into one super-strong, yet still invisible strand?
In my little brain, the idea had merit. And since I create and sell magic tricks for a living, I researched spiders and developed a method to reproduce the amusement park event in a controlled environment, hoping it would lead to a marketable product.
WARNING: All spiders are venomous (except two arachnid families) and unless you are a trained professional, you should stay away from them. I am simply providing my methodology here for your entertainment.
The first thing I did was a quick web search to find out which spiders have the strongest silk. Thanks to Google, I quickly learned an Orb Web Spider, known as the Darwin Bark Spider (Caerostris Darwini), produces the strongest spider silk discovered so far.
According to Agnarsson, Kuntner, and Blackledge's "Bioprospecting Finds the Toughest Biological Material: Extraordinary Silk from a Giant Riverine Orb Spider" (2010), the Darwin Bark Spider's silk is "The toughness of forcibly silked fibers averages 350 MJ/m3, with some samples reaching 520 MJ/m3. Thus, C. darwini silk is more than twice as tough as any previously described silk, and over 10 times tougher than Kevlar"
To put those "toughness" numbers in prospective, the Darwin Bark Spider's silk is the most tensile discovered substance on earth. You can stop a jet mid-flight with a strand the thickness of a pencil.
"They [C. darwini] build their web with the orb suspended directly above a river or the water body of a lake, a habitat that no other spider can use," says Ingi Agnarsson, director of the Museum of Zoology at the University of Puerto Rico.
This unique position allows the Darwin Bark Spider to collect prey flying over the surface of the water. Scientists have observed more than 32 mayflies on their web at a time, with draglines that extend to both sides of the river.
"There are over 40,000 species of spiders," says Agnarsson, "more than 99.99 percent of spider silks are as yet unexplored. It would not be unexpected to find novel characteristics among all those unexplored spider silks."
The problem is, I couldn't find (or obtain through mailorder), a Darwin Bark Spider, nor the second strongest silk producer, the Golden Orb Spider (well, I did play with a version, the N. clavipes, but without results).
Then I realized, in my experiments, I could combine the webs, so strength isn't really a factor if I can collect a large amount of the silk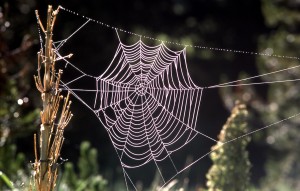 strands quickly. Thus, I concentrated my efforts on a local species of spider known for producing big webs – the Neoscona Arabesca – also in the Orb Web family – with an ideal thickness (read invisibility) for my project.
Once I decided which spider to use, I needed to learn about the webs themselves. Spiders produce seven different types of silk. Which is strongest? Which is longest? Which results from reproducible stimuli?
The silk a spider uses for "Guide Lines," the strands laid as the spider ventures from home to find their way back, is very much different from "Capture lines" and "Pheromone Trails." But I liked how the spider at the amusement park created that long strand when it "flew" down to the bench – those are called "Drop Lines" or "Anchor Lines." You know, Spider-Man web slinging.
To extract the silk, I needed a "contraption." I often find myself in need of strange contraptions and this was one of the strangest.
Due to its ability to conduct static electricity, I used cellulose acetate to produce long five-foot tubes with a circumference large enough to house my spiders (comfortable,yet cozy). Around the tops of both ends, I coated the inside of the tube with a rough surface produced by liquid acetate. I punched tiny holes in the rough surface to attract the spider, using its oxygen and water source as bait.
I capped each end, but the two caps were different from one another while still interchangeable to either end. One cap was flat, simply used as a cover. The other cap had an air bladder attached, to simulate my blowing the spider off my shoulder (gently).
When I placed the spider in the tube and stood the tube on end, the spider slowly worked his way to the top. When I squeezed the air bladder, it shot the spider to the other end. As predicted, the spider laid a silk drop line from the top of the tube to the bottom. Later in the day, the spider slowly crawled back up to the top, and again, I squeezed the air bladder, producing another five-foot strand of silk.
Before long, I put an air bladder at both ends, and simply shot the poor little creature from one end of the tube to the other with air. In two days, with a lot of patience, I collected more than a dozen strands of silk in the tube.
Occasionally, the spider learned to dislike the ends and rested in the middle of the tube. I altered the tubes to come apart in the center, one overlapping the other, providing an area to work with the spider without damaging the silk.
Using an automated system, incorporating multiple tubes and several spiders, one could probably generate thousands of strands of silk per week – appealing to magicians and researchers alike.
After a day or two of production, I removed the spider and let him go free (actually, I used female spiders almost exclusively), and found another spider for "silking." Since I couldn't feed or water the spider in the tube, I collected them in the mornings after they had adequately fed the night before, and lightly wet the air holes around the ends with a damp sponge.
Once I had all the strands I wanted, I took off both caps, and ran my finger around the inside of the top of the tube. As I extracted the silk, a small build up of static electricity acted as a lubricant and allowed for easy removal of the silk from the tube.
The first time I successfully obtained a useable finished product, I was giddy as a schoolgirl. I quickly levitated a few small objects: a leaf, a paperclip, and four playing cards Bulldog Clipped together. My first strands, slightly more invisible than dulled Nylon Invisible Thread, held 57 grams of weight vertically, and 46 grams horizontally.
With an acetate ring, I was able to produce spider silk "rubber bands," with elasticity similar to which magicians are used to working and invisibility to match.
It was a fun experiment and there is commercial value for anyone wanting to get into both the spider and the magic business, but it really wasn't for me. I am not in favor of imprisoning any creature, let alone one that has venomous fangs!
Comments
comments