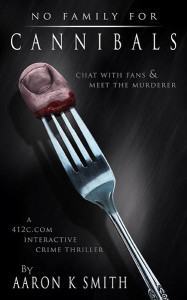 I just finished the first episode of No Family for Cannibals and it is with my editors. Don't let the word "episode" fool you. It's a written series, but instead of being broken up into chapters it is divided by episode to properly catalog the events of the story.
No Family for Cannibals is a fast-paced, interactive crime thriller with an adult rating. The series gets right into the thick of things in episode one: there is sex and nudity, bad language, and gruesome death scenes accompanied by explicit illustrations.
Murder isn't the only mystery in this series. No Family for Cannibals introduces a cast of diverse characters who all develop the story in their own unique way. Even the most observant fans of this genre will enjoy unraveling the clues only to find themselves alone in the dark.
No Family for Cannibals episode one premieres July 1st. In addition to the main story, the newspaper clippings mentioned in each episode and the graphic illustrations will be available from 412c.com
For updates and to get No Family for Cannibals bonus materials FREE upon release, sign up to my newsletter on the right side of the screen (bottom of the page for mobile devices).
Comments
comments