The effect of legendary people ripples through time, growing with interest every day. And I mean that literally in the case of Benjamin Franklin's bank account.
A polymath, Founding Father, and a signer of both the Declaration of Independence and The Constitution, Franklin's influence on the world is immeasurable. Except of course, when it comes to the £1,000 he bequeathed to his Boston and Philadelphia trusts, which is measured right down to the penny.
In 1785, when Franklin was 79 years old, Charles-Joseph Mathon de la Cour wrote a parody of Poor Richard's Almanack, called Fortunate Richard. In the text, one of the characters leaves a small amount of money to gather a huge amount of interest over several centuries. Cour prophesized society would use the money to create a utopia for all mankind.
Franklin was intrigued by the idea and decided to bequeath 1,000 pounds; about $4,400 in 1785 or roughly $105,000 in 2011. He deposited the money in two trusts. One in his adopted city of Philadelphia and the other in his hometown of Boston.
Over the next 200 years, the trusts accrued a large amount of interest and began pouring out into the community—just as Cour had dreamed and Franklin had intended—on a slightly smaller scale, of course.
But how can you measure your own financial legacy? Candace Bahr, CEA, CDFA and Ginita Wall, CPA, CFP, said in her article "A Penny Saved is Millions Earned," on Wife.org http://www.wife.org/a-penny-saved.htm says:
"To measure your progress you can use the Rule of 72. Divide 72 by the rate you are earning on your money to determine how long it takes your money to double. (Use the Rule of 115 to measure how long your money will take to triple). For example, if your money earns 3% a year, it will take 24 years for your money to double, and 38 years for it to triple. But if you invest your money in growth investments that average 8% a year, your money will double in only 9 years. And your money keeps doubling. A $10,000 investment earning 8% will grow to $20,000 in 9 years, and 9 years later you'll have $40,000, then $80,000, then $160,000. Money left to grow over years and years can be your ticket to a lifetime of financial security."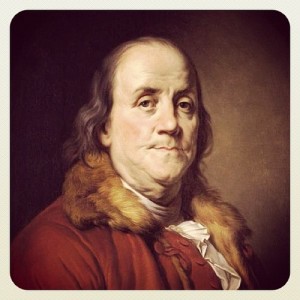 In 1940, Franklin's Philadelphia trust began loaning money to residents, primarily for local mortgages. By 1990, the trust had grown to over $2,000,000 and the executors opened the funds to include scholarships.
The Boston trust accrued nearly $5,000,000 by 1990. The first hundred-years-worth of interest went to founding the Franklin Institute of Boston, and was later dedicated entirely to the trade school.
Benjamin Franklin died at age 84, on April 17, 1790. Newspapers of the day reported 20,000 people in attendance at his funeral.
Sidebar One: Franklin's famous quote, "A penny saved is a penny earned," was incorrectly attributed to him in the September 1899 issue of Pall Mall Magazine. According to The Phrase Finder, a UK website dedicated to such matters, the phrase actually originates from a passage in George Herbert's Outlandish Proverbs, "A penny spar'd is twice got," circa 1633.
Sidebar Two: In 1726, when Benjamin Franklin was 20, he developed a list of thirteen virtues. He later described these virtues in his autobiography and said he attempted to apply the rules to his life one by one, but admitted he failed them all on occasion. He hoped others might learn from his mistakes and reap the benefits. For your convenience, his thirteen virtues are paraphrased below:
Temperance: eat not to dullness; drink not to elevation.
Silence: speak not but what may benefit others or yourself.
Order: let all your things have their places; let each part of your business have its time.
Resolution: resolve to perform what you ought.
Frugality: waste nothing.
Industry: be always employ'd in something useful.
Sincerity: Use no hurtful deceit.
Justice: wrong none by doing injuries, or omitting the benefits that are your duty.
Moderation: avoid extremes.
Cleanliness: tolerate no uncleanliness in body, clothes, or habitation.
Tranquility: Be not disturbed at trifles, or at accidents common or unavoidable.
Chastity: rarely use venery but for health or offspring.
Humility: Imitate Jesus and Socrates.
(this article was originally published in 2011)
Comments
comments