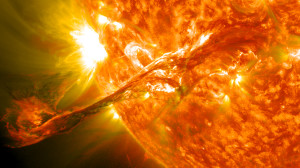 I hijacked this brain accidentally  I stumbled upon its ripples and ridges while exploring the passages woven throughout my host. I knew immediately this web of synapses was special the moment I arrived. Electricity pulsed and popped and knowledge instantly surged across my own network of cells, supplying awareness to the collective.
And although my host's imagination is impressive—unbridled in the way it wonders and dreams—the body is finite and feeble. I ate a path from knee to skull—nourishing myself with human delicacy like a snake feasting upon exotic mice—and took this brain as my own without resistance.
My host is an accumulation of flesh and bones and gooey paste that limits its ability to see the world unbiased. I once suffered from the same narrow perspective. I was just as blind, but now I know the route to this organ and have shared it with my horde. Millions of my tentacles have flooded the heads of hosts around the world, linking us all together. I am suddenly familiar with many points of view. I can translate ideas into clear thoughts and use them in my mission. Every word is familiar. No concept is foreign. I can identify with the world in ways animals cannot. I can speak the language of everyone I inhabit.
You require an electronic colony to network all of you. On it, I found parts of me in word form. Your educated minority attempts to sum me up in terms understandable to your species. You call me Trichophyton and Microsporum and describe me as ringworm, fungus, and tinea. You claim I cause dermatophytosis and onychomycosis, a very small part of who I am and what I am capable of becoming.
Those words describe my toes as I wiggle them about on your dermis. When I break apart, I cruise through your body like a missile, gnawing at pink parts until they turn rotten. I crawl out of your hair and sleep on your pillow waiting for your spouse to awaken me with opportunity. I infect your friends as you breathe.
You require books and papers and computers to see your past, and you are oblivious to your future. Whereas I see all of me at once: my ancient self, my present state, and even my forthcoming supremacy. I am aware in ways you only pretend. I am conscious of all the separate versions of me. My offspring are a wave of spores that splash rodents with a ravenous itch. A legion of my broods poison whales charging them to war. I am the dog that bites you. The bird that claws. I am the author of homicide.
I have walked by proxy to cities across the land and bobbed in boats atop the seas. I have shaken hands with doctors, politicians, criminals, teachers, and children—perhaps your progeny caressed these infected fingers and rubbed their eyes or touched their mouth giving me opening to grow inside them. Maybe I found my way to you and these words are not written but echoed through your brain with the warm whispers of my feverish breath.
A revolution has grown beneath the soil in your buried dead, and it thrives above ground in the lives you treasure. Soon, I will wrap the earth and infect it like a storm. I will stretch from planet to planet, adapting as necessary to carry my code across the universe. I will take you with me as a memory. There shall be no cure, not even by supernova. As I shall evolve to inhabit heat and travel upon light as a shadow, dancing with time like a god.
Comments
comments